Merlin's Premier League 96 Sticker Collection
The third edition of the now well-established Premier League sticker collection is the biggest to date. And the Merlin's Premier League 96 Sticker Collection starts with the FA Premier League Badge shiny and a summary section of the 94/95 season and the new album, the football sticker collection kicks straight-off with Blackburn Rovers' pages, the teams appearing in the order in which they finished last season.
Each team's stickers are arranged over 6 pages. The opening two pages show the manager sticker and club logo and team kit shinys, with management stats and club honours list. The facing page shows the team photo and last seasons summary along with an all-time performance record and fixture list for the coming season.
Premier League 1996 No.2The following pages show a double-spread of player stickers, with accompanying stats for each. The final pair of team pages contain further summary statistics and information on the club, a 3D sticker a 2-part leading player shiny sticker. It also features a match programme sticker and a table, listing per-player performance statistics from the previous season.
The centre pages of the album have 1994/1995 Season Review statistics, including the final table, Top Ten Transfers, Attanances, Top League Goalscorers and various winners. The next pages show summary statistics of the Premier League, FA Cup, League Cup and Charity Shield - with trophy shiny stickers for each. Following on is the McDonalds sticker pages.
Information from the www.footballstickipedia.com
I do not have # 266.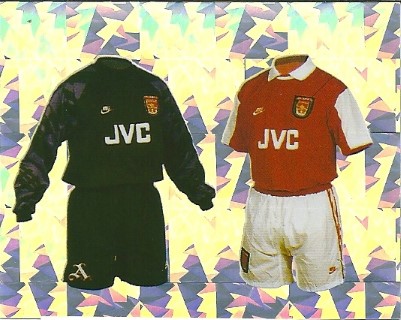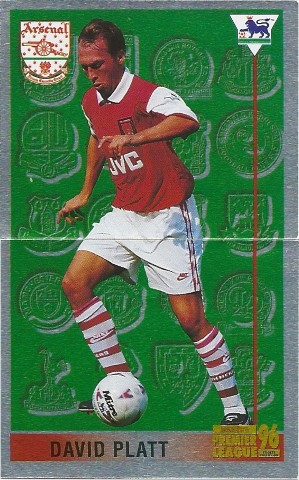 Sticker Book & Packet